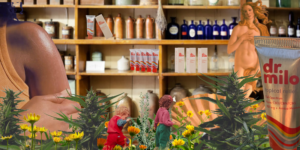 Hi Joni, please kick things off for us with an introduction to yourself and your story.
We're a Woman owned, family-operated hemp business. Created by a team of sister, brother, and dad, Joan, David, and Milo. We initially shared Dr. Milo with friends and family seeking an all-natural, safer solution to curing everyday aches and pains and helping loved one's cope with chronic pain. We now get to share this product with the world, and we're excited about that.
Several years ago, our mom and wife respectively were diagnosed with an autoimmune disease, making her live with chronic debilitating pain. We wanted to create a product and be a part of her healing journey to find a less toxic solutions for pain management. We started with the idea that we could offer something as an alternative solution to pain management. We combined our background in holistic, herbal healing with the advent of the legalization of hemp. Dr. Milo began in our home kitchen; with lots of messy potion experimentation and after its initial success, we decided to form a company. Our company standard was to distribute a product for others seeking a more pain-free life while using the whole-plant, all-natural ingredients. Dr. Milo has since grown and is produced in California, and you can now find us in multiple U.S. locations. We've also continued experimenting and are seeking to make more products that offer some peace for your aches and love for your pains.
I'm sure you wouldn't say it's been obstacle free, but so far would you say the journey have been a fairly smooth road?
I think there are still a lot of strides our country and ethos of our culture need to make in supporting women in business. We're natural multitaskers and healers and therefore take on a lot and juggle a lot at once and in my experience, our society doesn't always do the best at recognizing and celebrating that. The field I work in is very male dominant and I've certainly had a few moments of placating or assumption as a female business owner, and it's been tricky but also exciting navigating it all. I have learned over the years of production and being in business that there are so many great people out there to connect with for support, mentorship and to bring on to our family-operated Dr. Milo team. It's about keeping these people close that share your same vision for our business and can bring you back to that vision when the struggles come up. Because the obstacles will come up often if I'm doing anything worthwhile or making a difference or creating a product that helps in a way that breaks away from the norm. That's what it's all about for, for me.
Alright, so let's switch gears a bit and talk business. What should we know?
Dr. Milo is a woman-owned, family-run small business specializing in pain relief. We're known for our all-natural hemp-based products and the quality of our sourced ingredients. Our Topical Pain Relief Lotion has been on the market for about a year now and has had amazing feedback from our customers offering them the relief they're looking for that lasts and is a more natural approach to pain relief and recovery.
Into our first year, I'm proud of all the responses we've been getting and how much my brand has grown. It hasn't been easy any step of the way and I've been working three other side jobs to build the company. I'm happy that what seemed so far and unattainable at first is now a reality. I went into the manufacturing of natural products world and entrepreneurship not knowing much and I've learned a whole lot along the way. I'd love to find more ways to mentor women in business over the years to come as I grow and learn.
Dr. Milo's Topical Relief Lotion is a fast-absorbing, full-spectrum Hemp formula. It contains all plant-derived ingredients, & regenerative Hemp that offer reduced inflammation and relaxation. It will absorb into the skin within seconds, work within minutes, and last approximately 2-4 hours. We use a NANO, full-spectrum hemp for higher potency, and faster absorption. Our unisex essential oil-based scent won't stain your clothes so use all over your body. We like it on the insides of our wrists to soothe anxiety and on our temples for migraine relief. Massage into your aches and feel the relief.
Sustainably sourced ingredients and packaging.
NO: animal testing, synthetic ingredients or fragrance, parabens, harsh sulfates or phthalates
Sourced from organically grown USA hemp (containing 0.3% THC or less, non-psychoactive)
Arnica Montana for bruising, welling, and recovery
Whole plant, all naturally derived ingredients
Lab-tested to be free from pesticides, solvents, chemical fertilizers and other contaminants. GMP certified.
Non-GMO
Recyclable box and aluminum tube
Nano full-spectrum hemp = 5x the strength
Hypo-allergenic
No: animal testing, synthetic ingredients or fragrance, parabens, sulfates or phthalates
Can you talk to us a bit about happiness and what makes you happy?
Wow, so many things make me happy. My Partner, my family, our first child we're about to have in May 2023, our garden and tiny house we get to call home. What makes me happy with my business is helping people heal and when our customers reach out to share their journeys. I struggled in my early 30s with purpose and how my passions were going to add anything to this world. I felt this deep unanswered question of "What can I offer my lifetime and future generations that doesn't add more toxic waste into the world and is something that I can physically gift people to make them better". There were many moments when I should have been kinder to myself and let it unfold as it does, but in that process, I worked hard at learning what this thing was that I knew I had inside of me with all my life experiences, jobs, and passions and it was about to present itself. Nurturing the idea of creating a pain relief lotion gave me so much joy to work on and on the other side, I now receive the feedback from our customers daily of how much it helps them in their lives. I love hearing their stories of what their specific struggles were whether it's a new mom that's carrying her child on one side and needing some shoulder relief to an elderly client that is just trying to find some relief through the night. I think back to my process of creating our hemp relief lotion and all the hurdles and sleepless nights it took to create something that worked and I'm happy I stuck with that feeling I had years ago. I know now that happiness is a journey for me, and it's made up of a million little moments that make my life whole.
http://voyagela.com/interview/inspiring-conversations-with-joni-mann-of-dr-milo/